With decades of professional experience and the latest technologies in the industry, we're your top choice for veterinary services. You don't have to worry about having a scary experience when visiting us — we make everything as painless as possible!
Let Us Take Care of Your Pets
Taking care of animals is our passion. We love our job and adore your pets! As a family owned and operated company, we'll ensure your pet feels at home.
You'll feel confident in us. Bring your pets in for general veterinary services. Your animals will always be happy and healthy – thanks to our quality health care services.
We're happy to help you with any paperwork which you may need for your animal's records. We can also process transferred documents from other vets in a timely fashion so that you're ready to go when you visit us for a checkup or another kind of appointment.
Our Veterinary Services
Ultrasound
X-Rays
Surgery
Laser surgery and laser therapy
BAER hearing testing
HomeAgain microchipping
Dental services
Wellness
We are open 5 days a week and the first 3 Saturdays of the month.
---
We're pleased to offer the following services at Southwest Veterinary Clinic II, PLLC: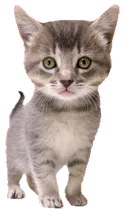 Our receptionists and team will attempt to accommodate all requests to the best of our ability. Emergencies are accepted anytime our clinic is open. If you feel you have an emergency with your pet, please call us or come in immediately. If possible it is best to call before coming in so that a staff member can advise you on your particular emergency.
We have a veterinarian and personnel on duty six days a week who are trained and equipped to handle any urgent care your pet has. Usually an emergency team consists of at least one veterinarian and several technicians working together to save a pet's life. Emergencies can be things such as accidental ingestion of rat poison, hit by car, and chocolate ingestion. If you ever feel that your pet needs emergency treatment do not hesitate to call or come in immediately.
We are also available for urgent care when the condition is not life-threatening. If you feel your pet needs to be seen before you are able to get an appointment, our veterinarians will work to "squeeze" you in between scheduled appointments. When you arrive, our receptionists will be able to give you an estimate on how long you may have to wait in order to be seen.
Because a large number of veterinarians practice at Southwest Veterinary Clinic II, PLLC, we can care for many types of pets:
Dogs
Cats
Rabbits
Horses
Cattle
Sheep
Goats
Pigs