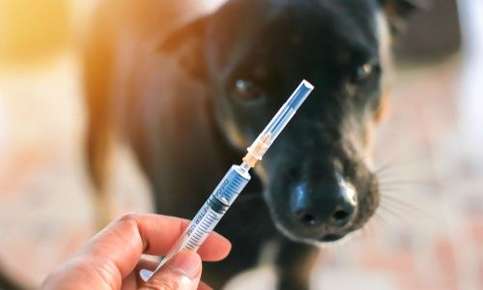 World Rabies Day Is the Perfect Time to Vaccinate Your Pet
Is your pet's rabies vaccination current? The vaccine offers a simple, effective way to protect your pet from the deadly disease. Although the number of rabies cases in the U.S. has declined, thanks to the introduction of the vaccine, the disease hasn't been completely eradicated and still remains a threat to people and animals.
World Rabies Day, held on September 28 this year, was created to increase awareness of the deadly disease and make low-cost or free rabies vaccines available throughout the world.
Which Pets Are at Risk of Developing Rabies?
Rabies can occur in any mammal, including dogs, cats, ferrets, skunks, raccoons, pigs, horses, cows, bats, coyotes, goats, foxes and sheep. Small mammals, like squirrels, rabbits, hamsters, and gerbils, can technically be infected with the rabies virus. But, these animals rarely develop the disease.
According to the American Veterinary Medical Association, rabies rates are higher in cats than other domestic pets, although dogs are at risk too. The Association notes that the difference could be due to a lower vaccination rate among cats.
How Do Pets Get Rabies?
The rabies virus is transmitted in an infected animal's saliva. Pets are usually infected when they're bitten or scratched by infected bats, raccoons or other wildlife. Once your pet becomes ill, it can infect you too. You don't have to be bitten by a rabid animal to develop rabies. The rabies virus can enter your body if your pet licks your hand, and you have a small scratch or a patch of dry skin on your hand.
What Are the Symptoms of Rabies in Pets?
If your pet has rabies, you may notice:
A Change in Behavior: Normally calm pets may become aggressive or irritable, or your dog or cat may seem much more affectionate than usual. It's not unusual for infected animals to feel threatened and display signs of fear, including flattened ears, raised hair, hiding and cowering.
Drooling and Swallowing Issues: Pets that have rabies may drool continuously and have trouble swallowing food and water.
Difficulty Walking: Pets can become uncoordinated and might even develop paralysis as a result of the infection.
Disinterest in Food and Water: Dogs and cats with rabies lose interest in drinking or eating.
Seizures: Seizures can occur as the virus worsens. Eventually, death may occur.
Rabies symptoms don't appear immediately after your pet comes in contact with a rabid animal. In fact, he or she may appear perfectly healthy for two weeks to two months after being exposed to the virus.
How Can I Protect My Pet From Rabies?
The rabies vaccine offers effective protection for your pet. Puppies and kittens usually receive the vaccine when they're a few months old and may need a booster vaccine a year later. In many states, adult dogs and cats only need to be vaccinated every three years.
Vaccination not only protects your pet's health but prevents him or her from passing the virus on to other animals or to people. During World Rabies Day, many veterinary offices and animal welfare organizations offer low-cost rabies clinics to protect the pets in their communities.
In addition to vaccinating your pets and livestock, you can also reduce the rabies risk by:
Limiting Wandering: Wandering pets can encounter all sorts of dangers, whether you live in the city, suburbs or country. Injuries from cars, poisoning from spilled antifreeze and bites from wild animals can put your pet's health at risk. Protect your pets by keeping dogs on a leash when you explore nearby forests and fields. Don't let cats and ferrets wander. Screened backyard enclosures provide access to the outdoors without any of the dangers.
Making Your Property Unattractive to Wild Animals: Keep your grass short, clear brush and debris from your yard, and don't leave pet food outside. Fill small holes around the eaves of your house and around the roof to keep bats out. Install exclusion devices in your chimney to prevent bats from entering your home.
Staying Away from Wild Animals: Bring your pets and your kids indoors if you see a wild animal in the yard. Rabies can make wildlife lose its fear of humans and can be a factor if you see a normally nocturnal animal during the day.
Does your pet need a rabies vaccine? Contact us to schedule a convenient appointment.
Sources:
American Veterinary Medical Association: Rabies and Your Pet
https://www.avma.org/public/Health/Pages/rabies.aspx
Global Alliance for Rabies Control: Get Ready for World Rabies Day 2019